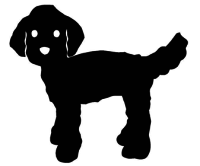 Goldendoodle Puppies

Senseney's Dazzling Doodles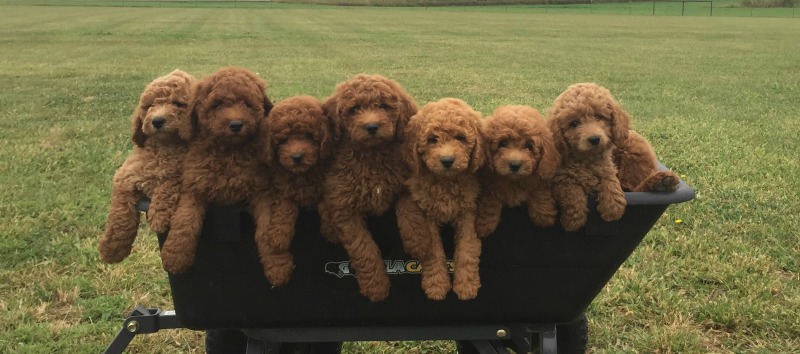 Goldendoodle Puppies in Southwest, Missouri
Goldendoodle Reservation & Waiting Lists
I am trying to make this list as efficient as possible and be fair to everyone. Instead of putting you on a certain "litter" I will put you on a list by breed: F1 and F1b Minis. This way if for some reason if a dog doesn't breed or something happens I can work down a list and people aren't out a puppy. I can also base my breedings based on demand. People will pick in the order deposits are received. If there isn't a puppy that fits your request, you will stay at the top of the list, but defer to the next litter. Puppies will be picked at 4 weeks of age and your name will be removed off the list and others will move up the list as puppies are picked. All solid colored mini size (25-40 lbs.), male or female, will be $1550. Merles or Partis will be $1850. You can be added to the waiting list with a $300 non-refundable deposit, which will be deducted from the total cost of the puppy. All puppies sold to Missouri residents will be charged 5.725% sales tax.​

Tiny F1b Mini Goldendoodles coming the end of 2018! Taking deposits now! $1850 for solids and $2250 for Partis or Merles. 10-25 lbs.
All our puppies are UABR registered and will be up-to-date on all their shots and dewormings. They will be well socalized with children, cats, and other dogs. All our puppies are micro-chipped and started on NuVet supplements at 6 weeks of age. Puppies are fed Nutri-Source Starter and wet food around 4 weeks. They are transitioned to Nutri-Source Seafood Select between 6-7 weeks. Puppies are puppy checked at 6 and 8 weeks of age. Puppies can go home at 8 weeks of age. Ground shipping (leaves Monday, arrives to you Monday or Tuesday, average cost $150) and air shipping is available on Fridays or Saturdays for $350 (puppy comes with a travel crate)

Taking deposits on our 2018 litters now!! F1 & F1b Minis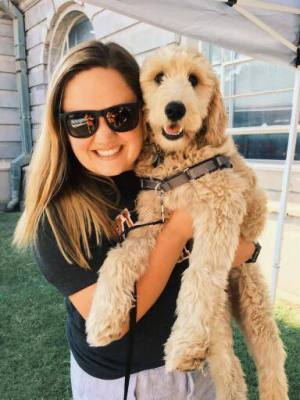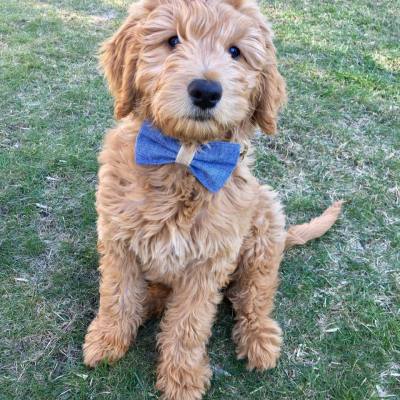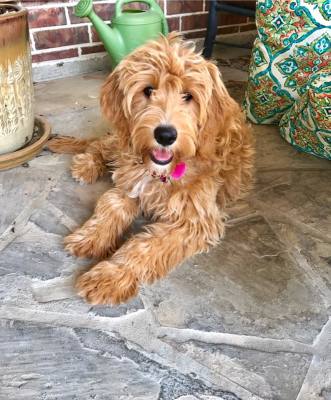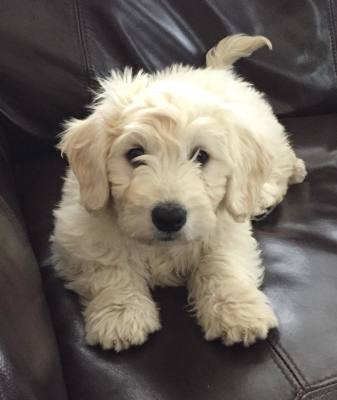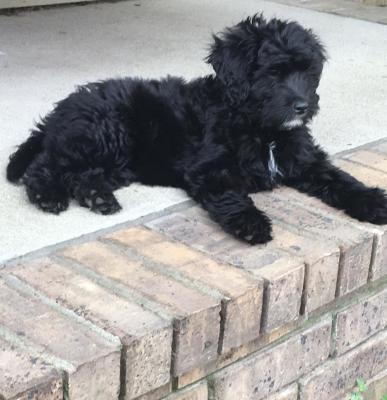 Rue

Foster
Finley
Brady
Izzy
All of the above pictures are F1 Minis. Rue, Finley, Brady & Izzy are all puppies from Shelby and Albert's litter. We will be doing a repeat breeding of them for spring 2018 puppies. Macy and Tyson should have red and apricot puppies similar to Foster. 

                                                                                    (F1b Puppies Pictured Below)
2018 Puppy Waiting Lists
F1 Mini Goildendoodle 2018 Litters

​Shelby & Macy's litters ready to go home in April. 

Females

1. Emery Carter
2. Haley Haynes
3. Cassie Burk
4. Jennifer Cornett- black  
5. Lisa Ours
6. Jenna Martinez
Waiting List for Summer/Fall Litters (Will be 3 litters to choose from!)
1. SDD- female
2. SDD- female
3. Pam Michael- female
4. Alan Classen- male 
5. Heather Hogan- male 
9. Veronica Tackman- male
10. Morgan Bumby- male

12. Catelyne Snitker- female (2019)

14. Wes Schneider- male

16. Kristin & Brett Willis- female (Macy)
17. Savanna Nix- female 
18. Stephanie Clark- female 
19. Nicole Robles- male
20. Michael & Heather- puppy
21. Cher Guinn- female
22. Katlyn Duke- male

23. Akriti Gupta- female- fall Shelby 

24. Christiana Cullumber- female 
25. Courtney Zimmer- puppy
26. Christina Dennison- puppy (fall)
27. Kaitlyn Mezinis- female (fall)
28. Allison Silverberg- male 
29. Beca Sealey- puppy

30. Jenny Branch- female 
31. Brad & Natalie- female
32. Ruth Ann- female
33. Precious Salazar- female (Macy)
34. Brandi Johnson- female- male
35.
F1b Mini Goldendoodles- Ruby & Rylee currently have puppies. There are males and females still available  for adoption that will go home in April. 



Females

1. Brittany French
2. Kristy Schluckebeir
3. 
4. 
5. 

6.
7.
8.
9.
10.
11.
12.
13.
Males
1. Mona A. (Ruby)
2. Kristy Schluckebeir
3. Melinda Petrucelli (Rylee)
4. Kay Wilson (Ruby)
5.
6.
7.
8.

9.
10. 
Waiting List for Summer/Fall Litters
1. Melinique Walls- male 
6. Bud & Malinda- female (February)​

9. Erin Dries-female (February) 
10. Sierrah and Neil- female 
11. Jessica Simpson- male (Ruby)
12. Cynthia Johnson- puppy (February)
13. Mason & Allie- male (Ruby fall)
14. Kelsey & Zac- male (Rylee)
15. Stephanie Hollingsworth- female
16.
17.
18.
19.
20.
21.
22.
23.
24. 
3 male and 6 female spots still available between Ruby & Rylee's puppies!! 
F1b Tiny Goldendoodles- 2018 Litters

​Expecting 2 litters in the summer/fall.

1. Whitney Maas- female

2. Drew & Danielle- male 
3.
4.
5.
6.
7.
8.
9.
10.
11.
12.
13.
14.
15.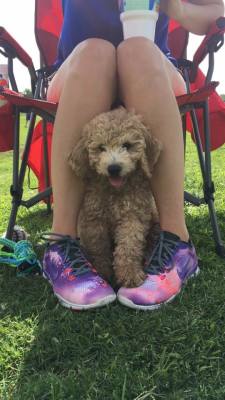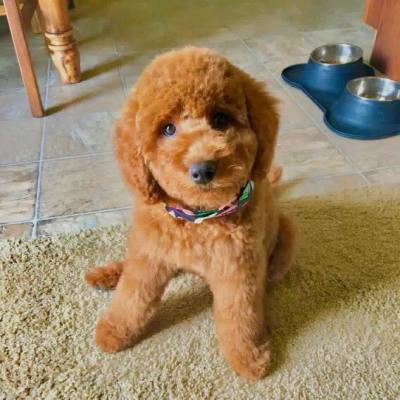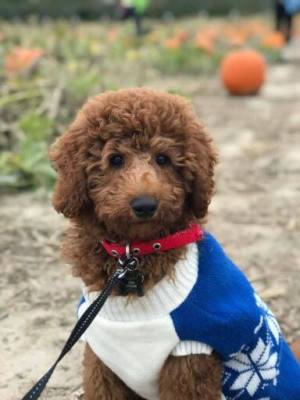 Albus
Griff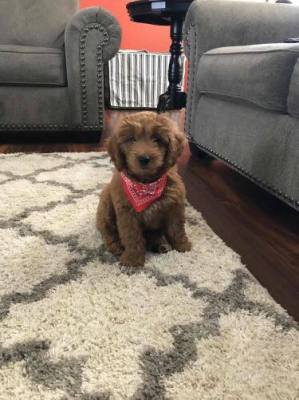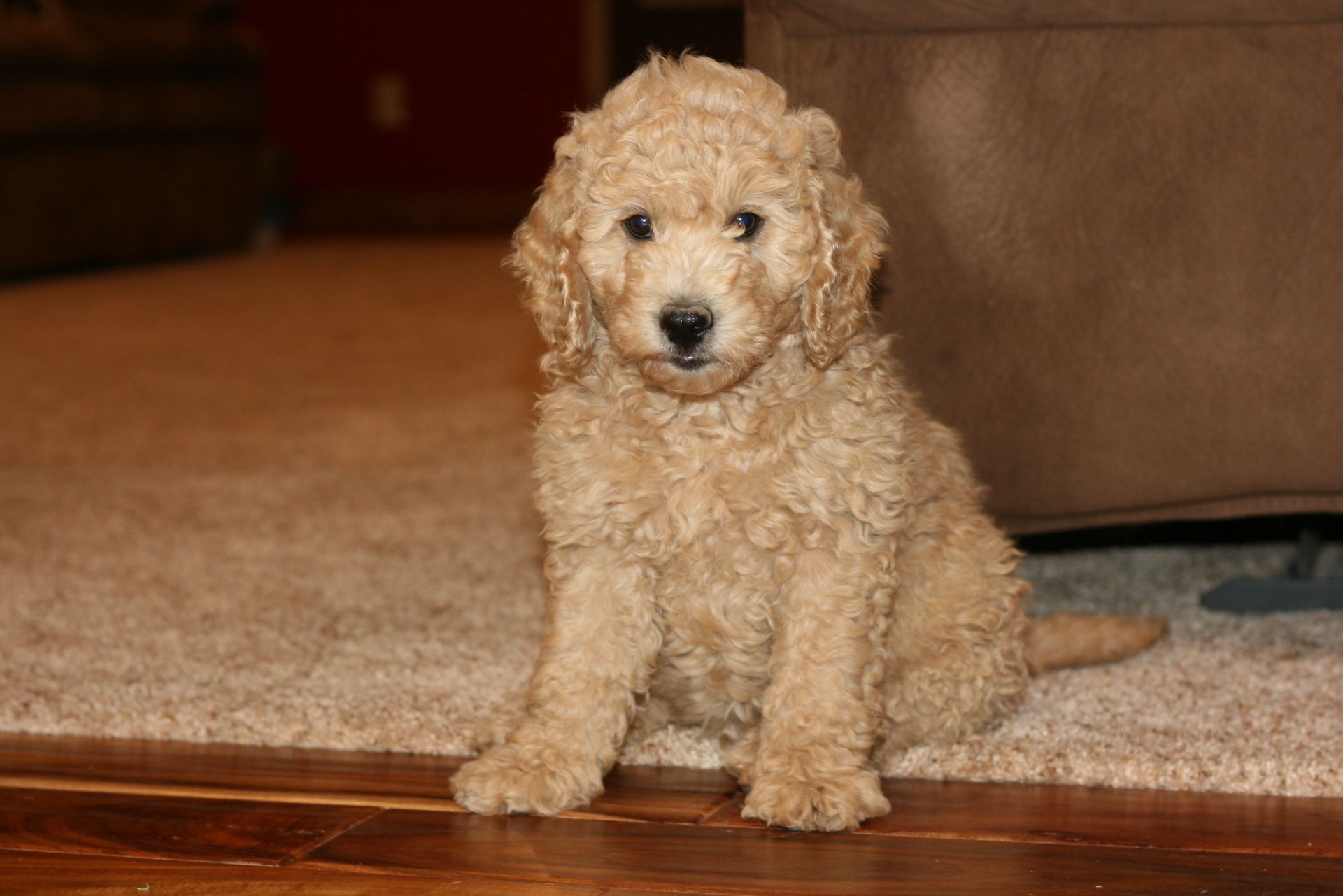 Boston
Griff
River

All of the above pictures are F1b Minis. Boston & Albus= Ruby x Tyson, River= Rylee x Tyson, Griff & Phillip= Molly x Tyson. We should have golden, cream, apricot, red, and possibly black spring 2018. We will also be offering Tiny F1b Goldendoodles (10-20 lbs.) at the end of 2018. 
Meet the Parents
We have an awesome group of furbabies. They all get a long so good and display great temperaments and breed qualities. We strive to raise, health, happy service and family dogs. Our dogs are intelligent and will be a great additon to any family!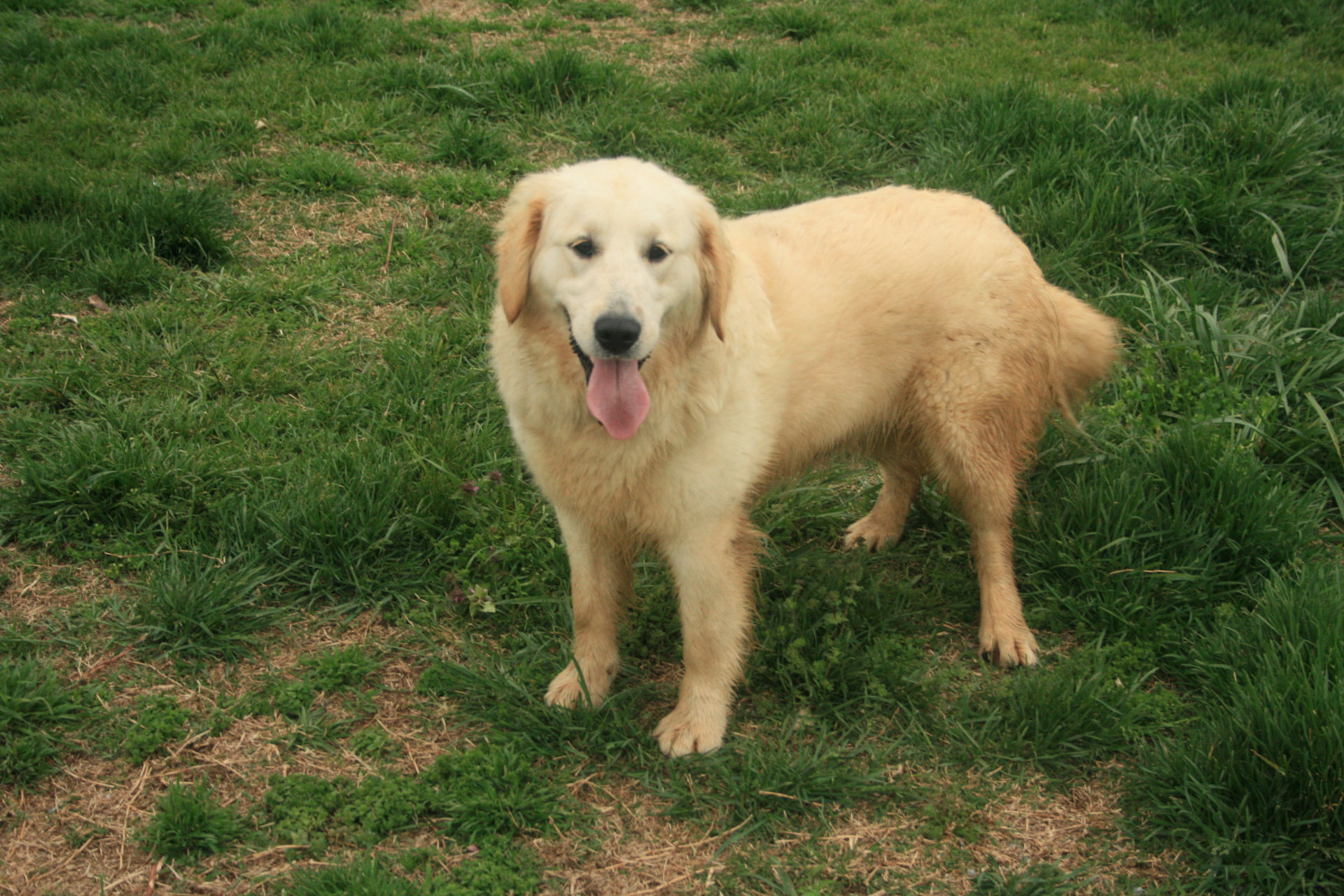 SDD's Shelby Ann
Shelby & Albert's Past Puppies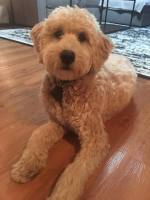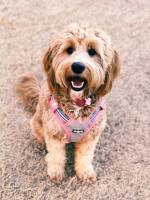 AKC & UBAR registered
OFA fair hips and negative for elbow dysplasia
loves to fetch
3/4 English Golden Retriever
70 lbs. 
Shelby & Albert expecting Feb.  2018: English cream, apricot, black
Macy's Past Puppies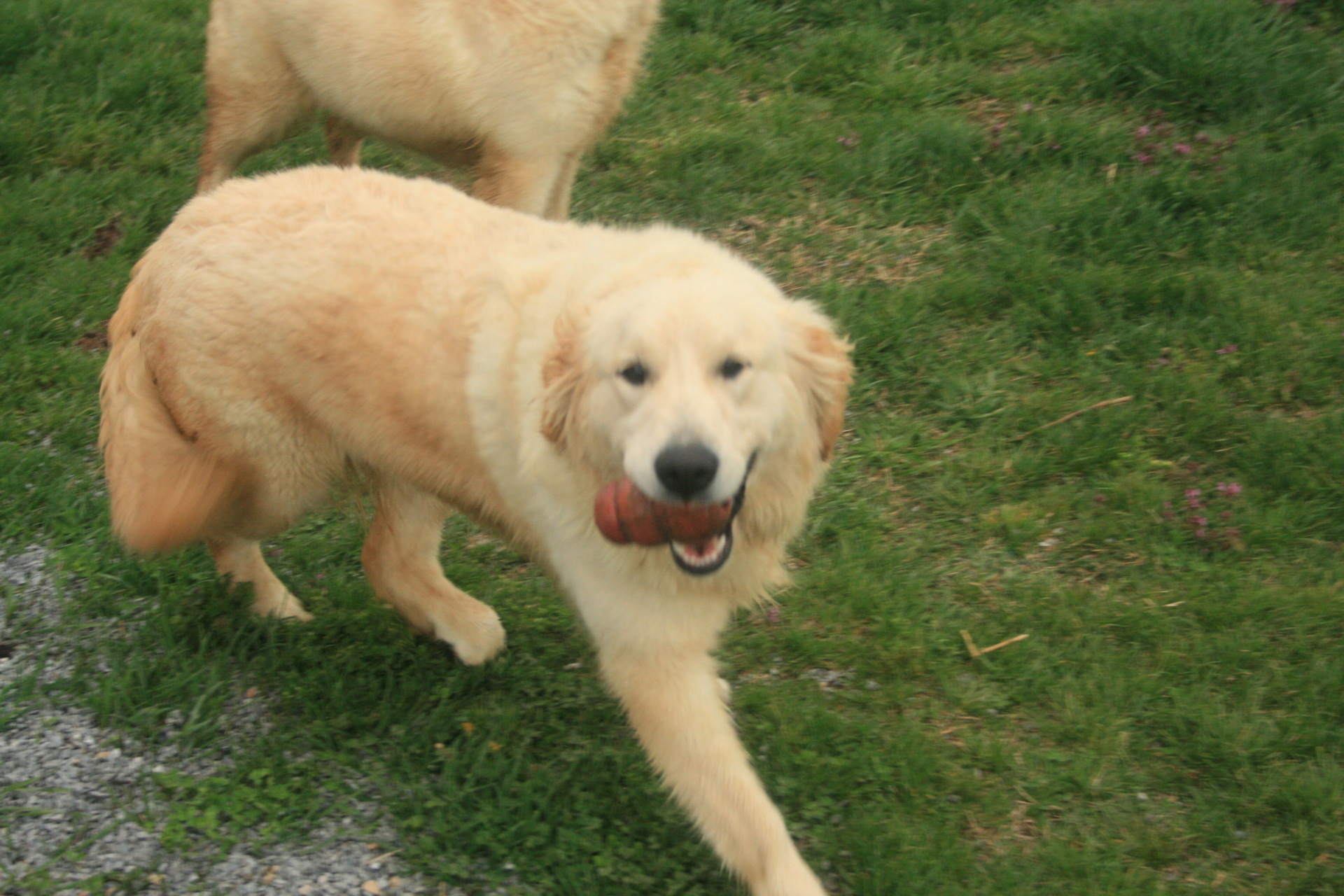 SDD's Macy Jade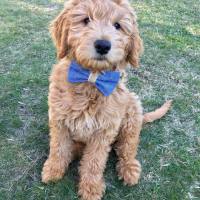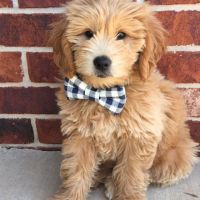 AKC & UBAR registered
OFA good hips and negative for elbow dysplasia
loves to fetch
3/4 English Golden Retriever
70 lbs. 
Macy & Tyson expecting Feb. 2018: golden, apricot & red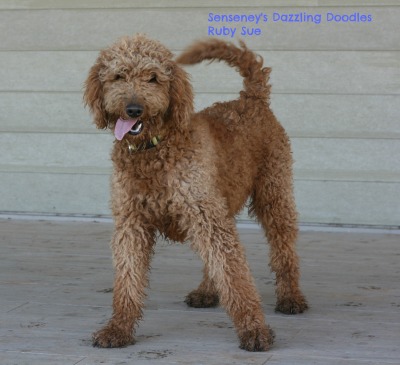 SDD's Ruby Sue
Ruby & Tyson's Past Puppies
UBAR registered
Ruby is a great mother.
F1 Goldendoodle
48 lbs. 
playful
OFA good on hips
negative elbow dysplasia
Ruby & Tyson expecting February 2018: apricot & red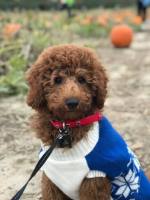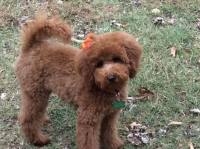 Molly & Tyson's Past Puppies
SDD's Molly Jane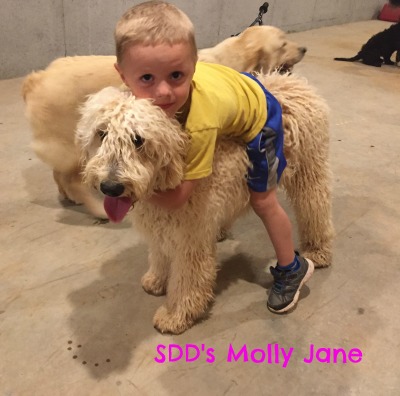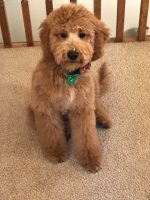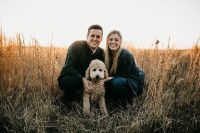 UBAR registered
F1 English Goldendoodle
Macy's baby
65 lbs. 
OFA good on hips 
negative elbow dyplasia
sassy pants
loves water
Molly & Albert expecting Feburary 2018: cream, apricot, black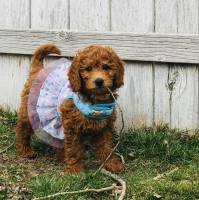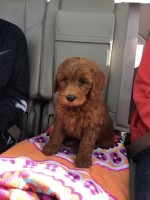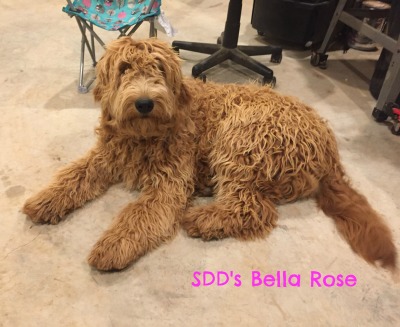 SDD's Bella Rose
UBAR registered
F1 Goldendoodle
65 lbs. 
OFA good on hips
negative for elbow dyplasia
sweet tempered and calm
Bella & Tyson expecting December 2017: apricot & red
Rylee & Tyson's Past Puppies
SDD's Rylee Kaye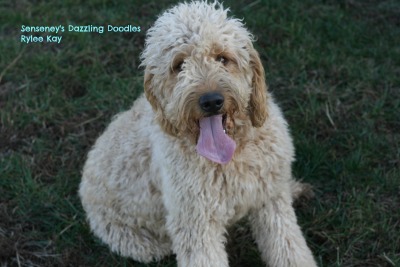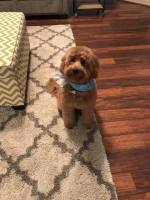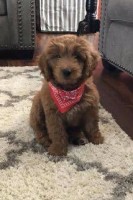 UBAR registered
F1 Goldendoodle
65 lbs. 
OFA good on hips
negative for elbow dyplasia
loves to play outside
loves water
Rylee & Tyson expecting February 2018: apricot & red
SDD's Red Rocket Tyson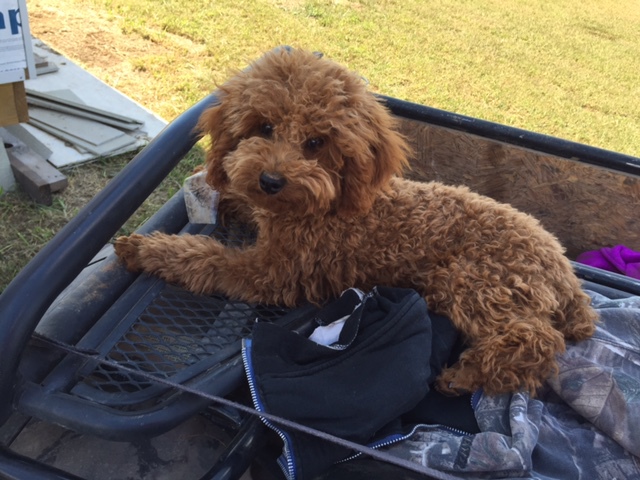 AKC registered
loves riding the four-wheeler and playing with the cats
Miniature Poodle
​9 lbs.   
OFA good on hips
DM, GM2, PRA, VWD clear/normal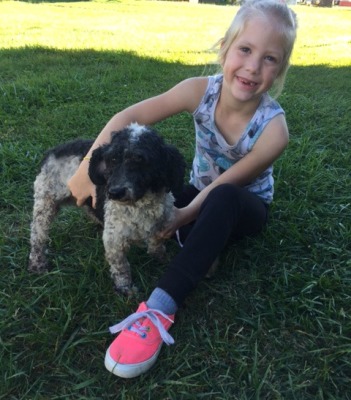 Prince Albert
ACA registered
loves treats
Miniature Poodle
​12 lbs.   
OFA good on hips
Good Patellar Luxation
DM, GM2, PRA, VWD clear/normal